New!! Mosquito Repellent!
Introducing our fourth product line! Our highly concentrated natural mosquito repellent formulated according to brand new scientic research.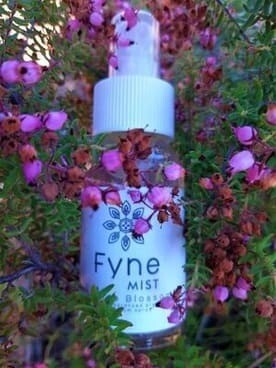 Pre-toilet prevention spray – made with pure Southern African Essential Oils
00000
Product Details
100% Naturally scented 'before you go' / pre-toilet spray with an exotic Orange Blossom fragrance. Spritz Fynemist into the toilet bowl water before you take a seat. IT TRAPS & PREVENTS ODOURS FROM ESCAPING FROM THE LOO.
Why you'll love our products: 100% natural plant-based ingredients NO harmful chemicals – NO phthalates, NO parabens, NO CFCs NO synthetic fragrance – Good for you to breathe in; safe to flush: Healthy Home, healthy body Fynemist prevents and eliminates odours – Antiseptic & aromatic Eco-friendly and cruelty-free
Up to 400 uses per 200 ml and 100 per 50ml. bottle: So cost effective!
Directions for use: Spritz 5 sprays into the toilet bowl water BEFORE you use the toilet. It forms a film that traps odour causing germs under the surface of the water. Take a seat..
Spritz in the air to sanitize and fragrance naturally.
SEPARATION IS NORMAL. SHAKE WELL BEFORE USE.
Warning: Not to be used by people with bleeding disorders or on blood thinners. Do not spray on pets. Avoid during first trimester of pregnancy.
They are available in:

the cost effective 200ml for R199
the handy 50ml travel/pocket size for R119.
Choose the fabulous fragrance that suits you…you have six sensational scents to choose from!
Pay only R95 during the WHOLE month of May (R119 normal price). You receive an essential oil scented glycerine soap GIFT with this offer! Please specify your chosen scent and if you would prefer a Lavender, Ylang-Ylang or Orange Blossom soap.

Save this product for later